The Library at Cedar Creek Lake
Presents:
MARTYN LUCAS
"THE WORLD PIANO MAN"
Saturday, May 8, 2021
Online Ticket & Sponsorship Form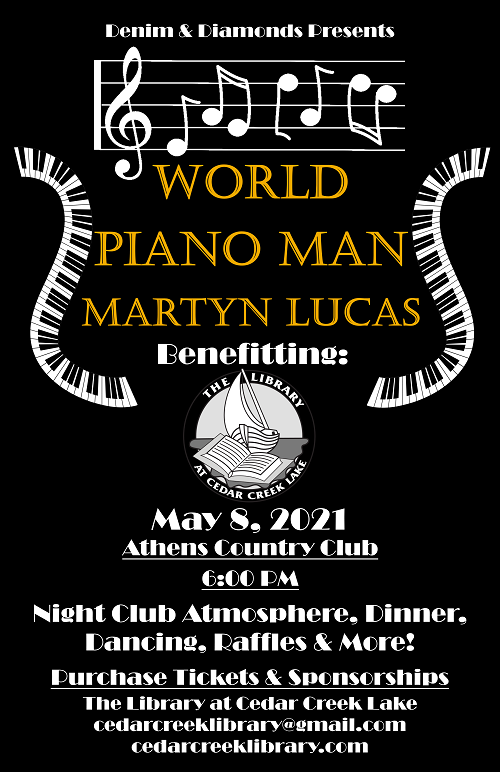 "THE WORLD PIANO MAN" TO HEADLINE LIBRARY AT CCL EVENT
The Library at CCL's annual fundraising event will be held May 8 at the Athens Country Club. This year's event will feature Martyn Lucas, "The World Piano Man," in concert. Join us for an evening of dinner, dancing, raffles and an unforgettable musical experience.
Martyn Lucas, originally from England, has performed to sold-out crowds in every major world capitol. His starring role in "Phantom of the Opera" at London's Covent Garden was a major stepping-stone in his career. Sir Elton John, after seeing Martyn in concert, named him "The World Piano Man," and gifted Martyn his famous gold jacket. Elton is just one of 14 voices adopted by Martyn during his concerts. With a repertoire of over 650 songs, you will recognize the voices of many celebrities including Pavarotti, Michael Jackson, Bryan Adams, Louis Armstrong, Willie Nelson, Sir Paul McCartney and many others.
Cherry Ringley, event chair, says "We are looking forward to seeing you at this special event. Get ready for Martyn to enchant you with the power and versatility of his voice."
Doors will open at 6:00 pm, May 8, followed by dinner and Martyn's performance. Sponsorships and tickets are available on-line at cedarcreeklibrary.com/events/fundraiser or print ticket/sponsorship forms, include checks, and mail to the address on the form.
The Library at Cedar Creek Lake is an independent, 501(c)3 non-profit organization. This event provides operating funds for all our programs and services which are offered free to the public.
This event is the Library's largest fundraiser! Hope to see you there!